Advance Your Career in a Transformational Field.
Industry growth projections for Digital Marketing are staggering:
Forrester Research projects that spending on digital marketing in the U.S. will nearly double from $57.29 billion dollars to $103.37 billion dollars in a five year period through 2019.
Digital ad spending rose 17.7% in 2014 and will rise another 15.5% in 2015, fueled by mobile.
By 2018, Internet advertising will be poised to overtake TV as the largest advertising segment.
Separately, a survey by Gartner also found that digital marketing budgets were set to rise to enable companies to better connect with customers. According to Yvonne Genovese, managing vice president at Gartner, the "2014 CEO Survey found that digital marketing was the No. 1-ranked CEO priority for technology-enabled business capability for investment during the next five years."
* Sources: CMO Council website page on Marketing Spend and Gartner Digital Marketing Spending report
The Opportunity is Great
.
Every enterprise in the world is upgrading its investment in digital marketing execution and talent. This creates a world of opportunity for professionals who possess the critical expertise to bring the many facets of high quality digital marketing to life.
The Talent Gap is Huge.
In an Adweek article published last year, it was reported that the Online Marketing Institute surveyed almost 750 Fortune 500 and ad agency executives. The survey produced disappointing, even "grim" results regarding the availability of talent, according to Adweek: "There's a vast gap between the digital marketing expertise needed by organizations and the talent actually available to them at every level."
Fast and Convenient: An Online Program Which You Can Finish as Quickly as 16 Months
All eight courses in the Digital Marketing certificate are offered ONLINE. It's the ultimate in convenience, with no wasted time commuting to classes and the flexibility to learn from anywhere, when it's most convenient for you. Each course is highly focused on providing actionable skills and knowledge to function immediately as a professional in the digital marketing world. Ambitious students can take two courses per semester for four consecutive semesters, finishing as quickly as 16 months.
Certificate Program Overview
The online certificate program has been designed to provide practical expertise in the dynamic and rapidly evolving growth field of Digital Marketing, including the key areas of content writing and marketing, search engine optimization (SEO), social media marketing, and online analytics. Students graduating from the program will differentiate themselves in the employment market, possessing a competitive advantage in a field that will continue to explode for years to come.
The program consists of eight courses, 24 credits, covering the crucial areas of proficiency required to launch a successful entry-level career or enhance the digital marketing expertise of a mid-career professional. The Digital Marketing courses can be completed as a standalone certificate or as a concentration in the Bachelor of Business Degree program.
Course Descriptions:
MGT101E Foundations of Marketing
This course examines the tools and methods of analysis, planning, and control as used in the management of the marketing process in all types of organizations. It sequentially traces the marketing process as follows: environmental monitoring of opportunities, internal assessments of goals, resources, and constraints; formulation of marketing strategy; development of marketing programs (interface of product, price, promotion, and distribution), financial analysis, and marketing control (strategic and operational). It stresses applications through case studies and the development of a full marketing plan.
MGT 130E - Digital Marketing Strategies
​This course addresses all the marketing strategies and tactics that are specific to digital marketing. Students will gain an in-depth understanding of the concepts of digital marketing while learning the choices, usage, and implementation of cutting-edge tools and technology. This course will review and familiarize students with email marketing, affiliate marketing, social media marketing, tablet/mobile marketing, global marketing, demand generation, SEO marketing, inbound and outbound marketing, as well as blogging fundamentals. This course will also cover how digital marketing can and should be included in an overall business and communication plan to consumers.

MGT 140E - Digital Analytics
This course prepares students to understand the necessary web analytics technologies associated with digital marketing and how to assess the performance indicators and data for determining success. Students will conduct and review online metrics, understand performance tracking systems, and look at analytics choices within the digital landscape. Learning objectives include understanding tactical digital campaigns and having proficiency at reviewing a management dashboard report. Additional topics may include A/B and multivariate testing, form optimization, and lead prospect scoring.
MGT 235E - Marketing Research and Analytics
This course provides an in-depth understanding of doing qualitative and quantitative research, plus research and analytics assessment for marketing in the digital world. You will learn the process of gathering information related to market trends, consumer behavior, and demographics. Students learn the skills to conduct and manage data studies that guide strategic and tactical decision-making. Familiarity with fundamental and cutting-edge market research design and analysis techniques and procedures will guide students through the data collection and assessment process.

MGT 230E - Social Media Marketing
This course provides a social media network overview, plus strategies for developing a community of followers, an examination of social advertising and public relations, and specific tools and techniques for successful campaigning. Effective social media strategy integrates blogging, video, photography, and news/press releases to foster community engagement. Students will learn the theory and best practices of Social Media, evaluating Twitter, Facebook, LinkedIn, Instagram, podcasting, blogging, as well as newer social media sites.

MGT 240E - Search Engine Optimization (SEO)
This course will provide students with the key tools to apply concepts used in search engine optimization. Students will learn successful strategic approaches for SEO (search engine optimization) and SEM (search engine marketing). Organic keyword search methods, paid placement techniques, and directory listings are examined for their effectiveness as elements of an overall marketing campaign. Additionally students will analyze website building architecture and strategies through content enhancement, landing page effectiveness, personalization capabilities, and optimizing mobile content for enhanced website impact.

MGT308E Consumer Marketing Behavior
This course is an in-depth examination of the processes involved when individuals or groups select, purchase, use, and dispose of products, services, and ideas to satisfy their needs and wants. Understanding consumer behavior from the complex perspectives of environmental, individual, and psychological influences provides a foundation for the formulation of effective marketing strategies. Prerequisite: MGT 101E.
ENG/MGT 260E - Writing and Content Management
This course will examine effective content creation and the qualities of persuasive writing for multiple media outlets and Internet marketing channels. Students will understand how individuals and businesses communicate to consumers to influence decision-making through establishing clear objectives, understanding the target audience, and specific messaging. Multiple writing formats will be discussed: e-mail campaigns, newsletters, blogs, web content, tweets, press releases, and messaging. Additionally, photo, video and audio technology will be examined as content management vehicles. Students will learn how to communicate to specific audiences in a persuasive writing style that compels consumers' to respond for information and product purchases.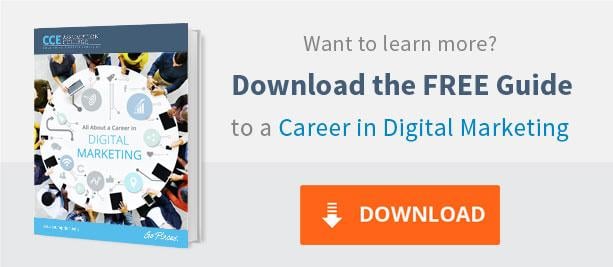 Learn more about the online certificate in Digital Marketing:
Contact the CCE office at 508-767-7364 or goplaces@assumption.edu